The 14th EIS Association Annual Awards took place at the House of Lords.
The Awards recognise excellence in a number of EIS and SEIS fields.
They are presented to firms, advisers, companies, individuals and journalists that achieved outstanding performance in the context of the EIS and SEIS schemes during 2018.
The Chairman of EISA, Lord Howard Flight, hosted the reception at The Cholmondeley Room in The House of Lords.
The guest speaker on the evening was Loyd Grossman CBE, Chairman of The Heritage Alliance.
The winners of the awards announced on the night were:
Best EIS Fund Manager/Sponsor – Parkwalk Advisors
Best SEIS Fund Manager – Deepbridge Capital
Best EIS/SEIS Tax Adviser – Shoosmiths
Best EIS/SEIS Legal or Regulatory Adviser – BWB Compliance, Bates Wells Braithwaite
Best EIS/SEIS Investment Exit – Par Equity
Best Financial Planner – Carla Brown
Best Newcomer – EMV Capital
"Spirit of EIS" – Growthinvest – Adviser Hour
Best EIS/SEIS Journalist – James Hurley – The Times
A selection of pictures appear below:
Best EIS/SEIS Tax Adviser, sponsored by Newable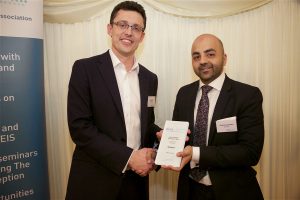 Winner – Shoosmiths
Pic: Sanjeev Gordhan of Newable on right with Tom Wilde of Shoosmiths
"Excellent examples were provided which highlighted how this firm are thought leaders in this space. It is clear that they engage and provide significant assistance across the board from investee companies to fund providers and advisers."
Best EIS/SEIS Investment Exit, sponsored by Edwin Coe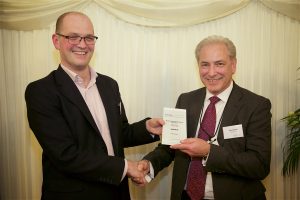 Winner – Par Equity
Pic: John Young of Edwin Coe on left with Paul Munn of Par Equity
"Great investor return, great return for the local economy and great impact on the education sector. An active manager delivering on its promises."
Best SEIS Fund Manager, sponsored by Exact Libris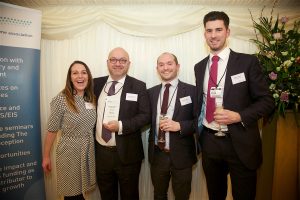 Winner – Deepbridge Capital
Pic: Sarah Johnson of Exact Libris with Kieran O'Gorman, Simon Tutton and Steven Powell of Deepbridge
"A strong entry, fulfilling the criteria fully in a number of areas. A clear focus and willingness to reach out to the wider finance sector including the financial planners. Valuations of investments are healthy with no failures as yet and pleasing to see a strong commitment to diversity issues."
Best EIS Fund Manager/Sponsor, sponsored by Mainspring
Winner – Parkwalk Advisors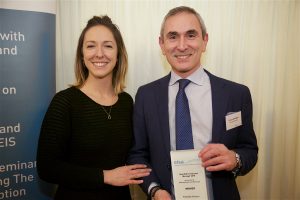 Pic: Natasha Head of Mainspring with Enrico D'Angelo of Parkwalk
"An impressive manager with a strong track record and regular exits. Exactly what the regulator is looking for helping create new innovative businesses and funding new start ups."
Best Financial Planner, sponsored by Guinness Asset Management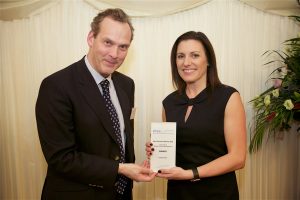 Winner – Carla Brown
Pic: Shane Gallwey of Guinness with Carla Brown
"The submission offered a clear holistic financial planning approach to the client scenario, taking into account the clients' needs, both financial and crucially emotional. A solid and highly commendable example of using EIS as part of an overall financial planning solution."
"Spirit of EIS", sponsored by Deal Partners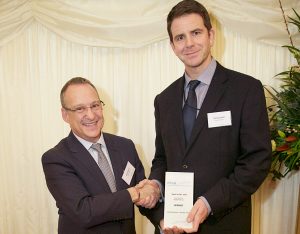 Winner – GrowthInvest – Adviser Hour
Pic: Clive Morris of Deal Partners on left with David Lovell of GrowthInvest
"A significant educational initiative. This has the potential to be a new avenue to grow a whole new audience for EIS across financial planners."